APABA Fifteenth Anniversary and Installation Gala
The Asian Pacific American Bar Association of South Florida ("APABA")
invites you to join: 15th Anniversary and Installation Gala
WHEN: Friday September 13, 2019
6:00 PM Check-in / Cocktail Hour / Networking
7:30 PM Program Begins
WHERE: Conrad Miami 1395 Brickell Ave Miami, FL 33131
ATTIRE: Business or Cocktail
* NAAAP-Miami members will receive special NAAAP Sponsored Rate.
* Seats limited. Register now.


This is an exceptionally momentous event, as we celebrate fifteen years of advancing diversity in the legal profession and will be hosting Florida's distinguished Asian Pacific American ("APA") trailblazer judges whose careers have had statewide impact. For the first time, these judges will be together on a panel discussing their careers and their experiences.
Hon. Denise K. Beamer (Fla. 9th Jud. Cir.)

Hon. Jeanette D. Bigney (Fla. 9th Jud. Cir.)

Magistrate Judge Hope T. Cannon (N.D. Fla)

Hon. Natasha Deprimo (Fla. 17th Jud. Cir.)

Admin. Law Judge Don W. Joe (U.S. Dept of HHS)

Hon. Raag Singhal (Fla. 17th Jud. Cir.)

Hon. Andrea Teves Smith (Fla. 2nd Dist. Ct. App.)
We expect more than 200 attendees, from attorneys, judges, and in-house counsel, to prominent APA leaders and other individuals from around Florida who are excited to celebrate APABA's 15th anniversary.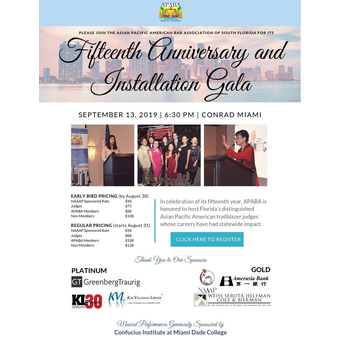 1395 Brickell Ave, Miami, FL 33131, USA