SoFloDragons Sunday Practice 10/13/19
🐉🚣 SUNDAY practice with SoFloDragons!
Join our dragon boat practice on Sunday @ 8:30 AM.
* Note: SoFloDragons team is preparing for upcoming race in October.
PARKING:
- Gate code will be sent in the reminder email or contact the organizer.
- Park in the back area by the building, we will gather around the restaurant tables.
IMPORTANT INFORMATION:
- Just bring some water for hydration, comfortable clothes/shoes that you don't mind getting wet.
- Paddles and life vests are provided.
- There are shower rooms at Miami Yacht Club so feel free to bring a pair of clean clothes to change.
- Please arrive 10 minutes early to warm-up/stretch.
See you soon!
~ building team Strength, Synergy & Solidarity
CONTACT US:
☏ 602-332-4217
📩 SoFloDragons@gmail.com
🌐 www.SoFloDragons.com

FOLLOW US:
👍 Facebook.com/SoFloDragons
📷 #SoFloDragons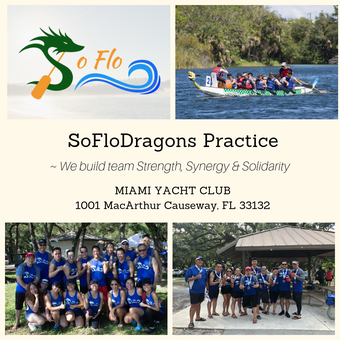 Miami Yacht Club, 1001 MacArthur Causeway, Miami, FL 33132, USA