SoFloDragons Sunday Practice 07/18/21
Let's Go!!! 🐉🚣 SoFloDragons practice @ 08:00 AM on SUNDAY 07/18/21
IMPORTANT INFORMATION:
- In order to keep everyone safe during the pandemic while enjoying the sport, all paddlers must review and sign the SoFlo Dragons Protocol to Resume Dragon Boat Activities at MYC document prior to getting on the boat. Please email signed document to [email protected]
Don't forget to bring water to stay hydrated and, if you're not fully vaccinated, please bring your mask.

Please arrive 15 minutes early to warm-up/stretch.
See you Sunday!
Building team Strength, Synergy & Solidarity
CONTACT US:
📩 [email protected]
🌐 www.SoFloDragons.com

FOLLOW US:
👍 Facebook.com/SoFloDragons
📷 #SoFloDragons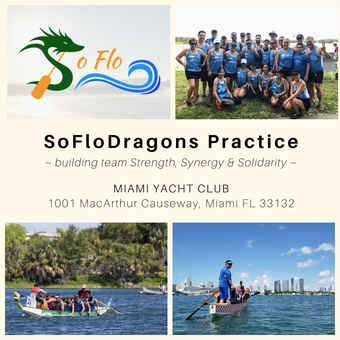 Miami Yacht Club, 1001 MacArthur Causeway, Miami, FL 33132, USA