SoFloDragons Sunday Practice 03/15/20 - CANCELED
🐉🚣 SUNDAY practice with SoFloDragons!
Join our dragon boat practice on Sunday 3/15/20 @ 9:00 AM. We welcome everyone regardless of your experience with Dragon Boating. We're sure you'll enjoy the workout, scenery & camraderie with the group.

The most exciting part of our practice is that we usually get to stop by one of the amazing islands to enjoy the scenery, photo op and swimming before returning to Miami Yacht Club.
PARKING:
- Gate code will be sent in the reminder email or contact the organizer.
- Park in the back area by the building.
IMPORTANT INFORMATION:
- Just bring some water for hydration, comfortable clothes/shoes that you don't mind getting wet.
- Paddles and life vests are provided.
- There are shower rooms at Miami Yacht Club so feel free to bring a pair of clean clothes to change.
- Please arrive 15 minutes early to warm-up/stretch.
See you soon!
~ Building team Strength, Synergy & Solidarity
CONTACT US:
☏ 305-707-6865
📩 [email protected]
🌐 www.SoFloDragons.com

FOLLOW US:
👍 Facebook.com/SoFloDragons
📷 #SoFloDragons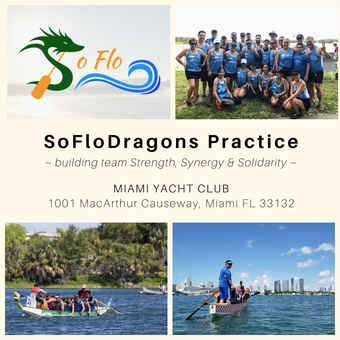 Miami Yacht Club, 1001 MacArthur Causeway, Miami, FL 33132, USA