SoFloDragons September Synergy Race & Potluck
Let's go SoFloDragons!

SoFloDragons is competing again at the Synergy Race on Saturday September 21st. We'd love to see you, your friends and family there to cheer us on.

As always, we want to take this opportunity to have a potluck together.
There are 2 ways to participate:
1. FREE Ticket: Bring some healthy food that is enough to feed 4-5 people then register this Potluck Signup Googlesheet with what you plan to bring and avoid having too much of the same food.
2. $10 Ticket: If you're unable to bring any food to share.

WHEN: Saturday 09/21/19 @ 10 AM
WHERE: Topeekeegee Yugnee Park - 3300 N Park Rd, Hollywood, FL 33021

* IMPORTANT TO KNOW:
- Park fee of $1.50/person to be paid at the entrance.
- Bring lawn chairs to sit.
- Bring sunblock.
- Bring Family and Friends.

See you 09/21.

~ building team Strength, Synergy & Solidarity
CONTACT US
☏ 305-707-6865
📩 SoFloDragons@gmail.com

FOLLOW US
🌐 www.SoFloDragons.com
📷 #SoFloDragons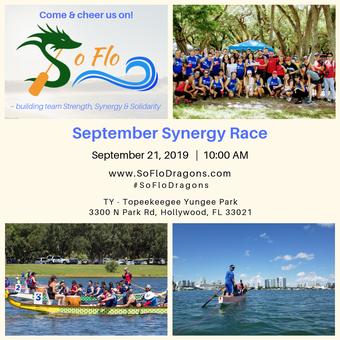 Topeekeegee Yugnee Park, 3300 N Park Rd, Hollywood, FL 33021, USA