2022 Halloween Costume Party
Venue update: Due to some unforeseen circumstances, we have to change the venue of our 2022 Halloween Costume Party.
The new venue is Dragon City located at 6706 Stirling Rd, Hollywood, FL 33024.
Our apologies for any inconvenience.
We look forward to seeing you at Dragon City!
Contact us:
Jennifer 305-519-8547
Luu 305-707-6865
------
Let's Go!
🎉🎃 Join us at one of the the most exciting events of 2022, Halloween Costume Party. This event features 10-course Dinner, Costume Contest & Karaoke.

WHEN: Saturday October 29th, 2022
7:00 PM Check in, Meet & Greet, Photo Op
7:30 PM Dinner
9:00 PM Costume Contest, Karaoke, etc.
WHERE: Ten Ten Seafood & Grill - 10101 Sunset Strip, Sunrise, FL 33322
PRIZES will be awarded for costume categories:
1. Best Group (2+ people)
2. Best Original / Creative
3. Best Girl
4. Best Boy

IMPORTANT NOTES:
* Regular Registrations end on Friday 10/28/22 @ 11:59 PM.
* Registration includes dinner, soft drink & water and karaoke.
* Alcoholic beverages can be purchased separately. However, the restaurant allows our group to bring wines without charging corkage fee. Feel free to bring some.


See you on Saturday.


CONTACT US:
[email protected]


FOLLOW US:
www.Facebook.com/NAAAPmiami
#NAAAPmiami #SoFloConnect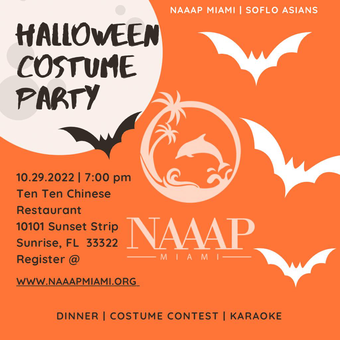 6706 Stirling Rd, Hollywood, FL 33024, USA